News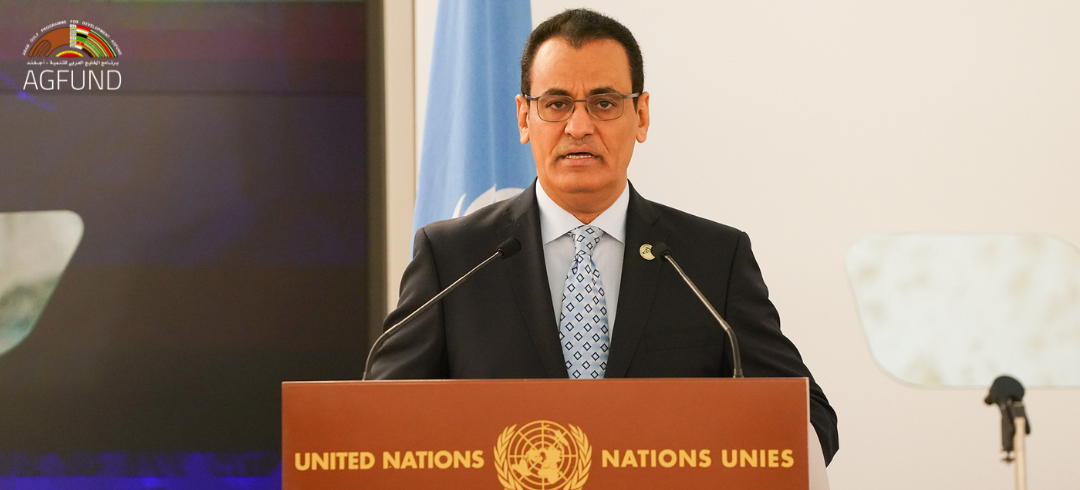 Welcome remarks By Mr. Nasser Alkahtani Executive Director of AGFUND Symposium on "Empowering Women through Financial Inclusion"
His Royal Highness Prince Abdul Aziz Bin Talal Bin Abdul Aziz Excellencies Distinguished guests Welcome to the beautiful city of Geneva. Thank you for choosing to be part of our Symposium today. This is the 8th Symposium that AGFUND conducts during "AGFUND Development Forum" that also includes the Award Ceremony of Prince Talal International Prize for Human Development. Our Symposium today "Empowering Women through Financial Inclusion" tackles an important issue that was adopted by the Late HRH Prince Talal Bin Abdul Aziz Al Saud, the Founder President of AGFUND where he exerted tremendous efforts dedicated to women that make them contribute to the development of society. I would like to start with a little background about AGFUND. AGFUND was established in 1980 by the initiative of HRH Prince Talal Bin Abdul Aziz with the support of the Custodian of the Two Holy Mosques and leader of Cooperation Council for the Arab States of the Gulf. AGFUND focuses on 5 programs: Early Childhood Development, Women's Empowerment, Civil Society, Education, and Financial Inclusion. Since inception, we've supported 1,578 projects in 133 countries. To support these programs, AGFUND has established specialized institutions and major projects that have become prominent figures in the field of development. At AGFUND, all projects supported and initiatives launched target women directly and indirectly. The Arab Council for Childhood and Development –ACCD, which aims at developing regulations and policies that support the Arab Child. The Center of Arab Women for Training and Research "CAWTAR" has attracted regional and international partnerships such as the European Union and the World Bank, aims at strengthening the capacity of government agencies and NGOs dealing with women. The Arab Network for NGOs which aims at promoting the civil society.
The Arab Open University- AOU has nine branches in the Arab countries which aims to provide women with access to education, especially those in rural areas. So fare, 50,000 students have graduated from the university. 60% of which were women. Currently, it enrolls 30,000 students. AGFUND banks for financial inclusion have been established so far in 9 countries. The banks are non-dividends companies dedicated to solve human problems. They've have developed a wide range of products that include: Education Mobile Payment Livestock raising Solar Energy Agriculture Insurance Savings Health insurance Graduation program Group Women Lending Remittances Household income generating activities Nurseries & Kindergartens We financed the establishing 450 nurseries / kindergartens that enroll about 13,000 children, provide employment for 1,200 women. Those products contribute in the 2030 UN Agenda for Sustainable Development. We believe that AGFUND's experience of nine financial inclusion banks operating on the ground, together with the successful efforts to establish 16 banks in Africa, allows AGFUND to contribute a clear vision based on practical experiences and success stories on the role of financial inclusion in women's empowerment.
AGFUND banks have funded served over 4.5 million beneficiary. 65% of which are women. Starting from 2016, the banks have disbursed US$ 100,000,000 worth of loans on a yearly basis. Prince Talal International Prize for Human Development, which we are celebrating tomorrow is another mechanism by which AGFUND explores creative projects and disseminates them in developing societies. The Prize is totally aligned with the UN Agenda for Sustainable Development. Financial Inclusion in the MENA Region is among the lowest worldwide. There is a real opportunity for governments, regulators and private sector to enable fast, efficient and sustainable delivery of financial services to targeted segments. We at AGFUND work with governments, central banks and regulators to push for creating and supporting financial inclusion regulatory frameworks that promote women's financial inclusion. We would like to call development agencies, funds, and private sector to join us in this initiative. Through AOU, AGFUND plans to educate 8,000 African women on Master's Degree in Microfinance and various finance-related courses in partnership with UNITAR and the Open University at the United Kingdom through a dedicated well-designed curriculums. We also welcome you to take part of this project. This is in addition to the 15 Microfinance Banks to be established in Africa in partnership with the Arab Bank for Economic Development in Africa. Through the Prize, AGFUND works to disseminate/upscale successful and creative projects in other areas in need. Digi#ances, a financial innovation that has been proved as a solution to address the gender gap in account ownership. This is because Digi#ances (or FinTech) deployments helps to overcome a number of access barriers, in particular affordability and geographical barriers. With 260 million people forcibly displaced worldwide, refugees represent an important segment of the world's two billion unbanked. 30% of the total estimated refugees' population in Africa while 18% in MENA. Overall, 47% of all refugees are women; in MENA this percentage reaches to 50% and to 51% in Africa.
Financial inclusion can enable refugees to overcome difficult situations, apply their skills and competencies and realize their future potential through options to safely store money, build up savings, receive money transfers, conduct daily financial transactions, and owning and insurance policy. This can only effectively and sufficiently achieved by Digi#ances. In Yemen, for example, AGFUND Bank has disbursed US$ 343 million of cash assistance to 2.8 million household in 2018. All implemented digitally. We would like to call the donors and private sector community to invest more in projects that contribute to the 2030 Agenda for Sustainable Development. At AGFUND, we have pledged to move forward with all initiatives led by Prince Talal, as they are ideas and projects that target the roots of human development. This pledge can't be done without partnerships (SDG No. 17) that we are proud of. We are pleased to partner with UNITAR and other 19 UN organizations, SDC (Swiss Agency for Development and Cooperation), SCBF (Swiss Capacity Building Facility), GIZ (German Agency for International Cooperation), and hundreds of international organizations and NGOs. With UNITAR, we have 2 outstanding projects, one to provide training on financial inclusion related-courses. The second aims to creating a platform for financial inclusion for Sub-Sahara Region, which we are launching today in the afternoon. Thanks to UNITAR and we look forward to having fruitful cooperation. With SCBF, we have 3 projects, one in Jordan to link health insurance with saving, the second one is a feasibility study to provide financial inclusion products for refuges in Lebanon, the third to have agriculture insurance on smallholder farmers using the weather index, which was one of last year's symposium recommendations. I this regards, I would like to give a special thank-you to SDC, SCBF, Syngenta Foundation, Insurance Regulatory Agency of Kenya, and the Central Bank of Sudan. Thank you for your presence, I wish you all an exciting and fruitful sessions.
Publish date: 08 Oct 2019
Category: Other