News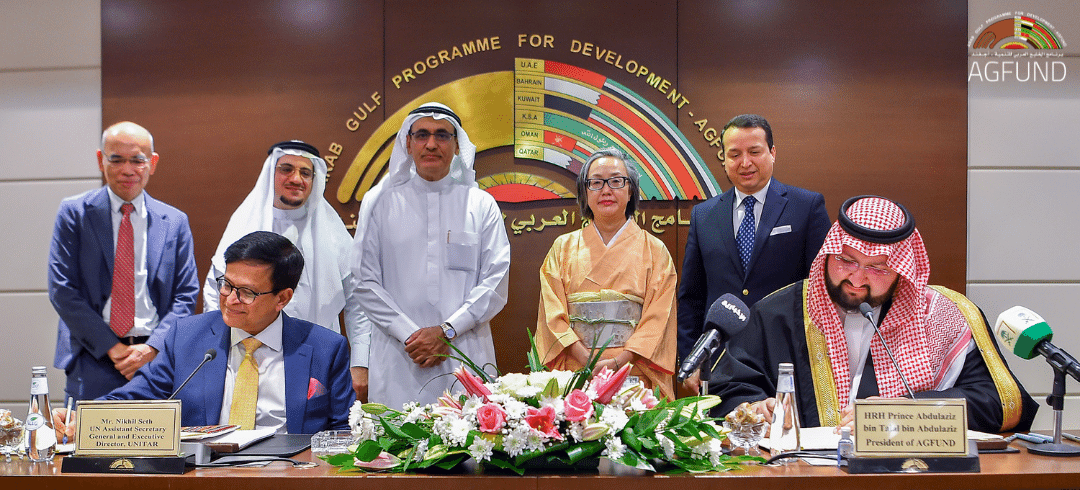 AGFUND and UNITAR establish a Global Partnership Hub
15 February 2022, Riyadh (Kingdom of Saudi Arabia), Geneva (Switzerland) - HRH Prince Abdul Aziz Bin Talal Al Saud, President of the Arab Gulf Programme for Development, AGFUND, and Mr. Nikhil Seth, Executive Director of the United Nations Institute for Training and Research, UNITAR, signed an agreement today to announce the establishing of the Global Partnership Hub.
The mission of the Global Partnership Hub is to harness education, research, and innovation as tools to support the achievement of all the 17 Sustainable Development Goals (SDGs) and their related 169 targets, which are at the heart of the 2030 Agenda for Sustainable Development and provide a new capacity building framework worldwide towards ending all forms of poverty, fighting inequalities and tackling climate change, while ensuring that no one is left behind.
Among the attendees of the ceremony were Mr. Nasser Alkahtani, the Executive Director of AGFUND, Ms. Mihoko Kumamoto, the Director for the Division for Prosperity of UNITAR, Mr. Muhammad Alsalim, Director of Projects Department of AGFUND, and Mr. Alexander Mejia, the Director for the Division for People and Social Inclusion of UNITAR.
The Hub aims to assist all low-resource countries to scale up sustained action on Financial Inclusion. The priority focus of the Hub is initially on the least developed and low-income countries. Moreover, the Hub will play an advisory role in promoting for nominations of projects submitted for the Prince Talal International Prize for Human Development. Technical capacity building support will also be available in the future to other developing countries including replication and scaling up the winning projects.
"We are happy that we signed today an agreement with UNITAR that will deepen the strategic partnership between us. This initiative comes in light of our endeavor to reach the underprivileged communities around the world and achieve sustainable development goals 2030." Said HRH Prince Abdul Aziz bin Talal bin Abdulaziz Al Saud, President of AGFUND.
The Hub will also serve as a catalyst for product innovation and promotes accountability for resources and results by driving action across three key areas: 1) Strengthening Education, Research and Innovation with focus on Capacity Building, 2) Supporting Community-based Financial Inclusion and Empowerment of National Institutions and Champions, and 3) Supporting a Conducive Environment for Achieving the SDGs.
"The pandemic has highlighted that a strong international cooperation is needed now more than ever to ensure that we build back better and achieve the Sustainable Development Goals. The Global Partnership Hub (GPH) that we signed today builds upon our long-standing collaboration with AGFUND in promoting inclusive and sustainable economic transformation for the underprivileged communities globally."
"UNITAR is grateful for AGFUND's commitment in operationalizing this Hub that will allow us to expand our collaboration with our development partners to accelerate and scale up our impact on the ground," UNITAR Executive Director Mr. Nikhil Seth said.
AGFUND's pioneering projects in poverty alleviation and supporting quality education and financial inclusion combined with UNITAR's convening power in bringing together stakeholders to support action through learning solutions and learning products provide a complimentary and strong foundation to support multi-donor action to overcome global challenges.
"The agreement signed today between UNITAR and AGFUND draws a roadmap of development work till 2030. This unique Hub is a real testimony on achieving SDG#17: Partnerships for the Goals where it addresses and contribute to the 2030 UN Agenda for Sustainable development." Said Mr. Nasser Alkahtani, AGFUND Executive Director.
The Hub will facilitate interaction with development partners including think tanks, private sector, philanthropies, and academic institutions to develop platforms and alliances and deliver flagship projects and other high-impact and high-visibility initiatives globally.
"The economic impact of COVID-19 pandemic threatens to reverse decades of progress in our fight against poverty and inequality. The global challenges are interconnected so through the Hub, we will be able to find integrated solutions with our partners in unlocking pathways to sustainable prosperity for those most at risk of being left behind," said Mihoko Kumamoto, Director for the Division for Prosperity of UNITAR.
Publish date: 15 Feb 2022
Category: Other