News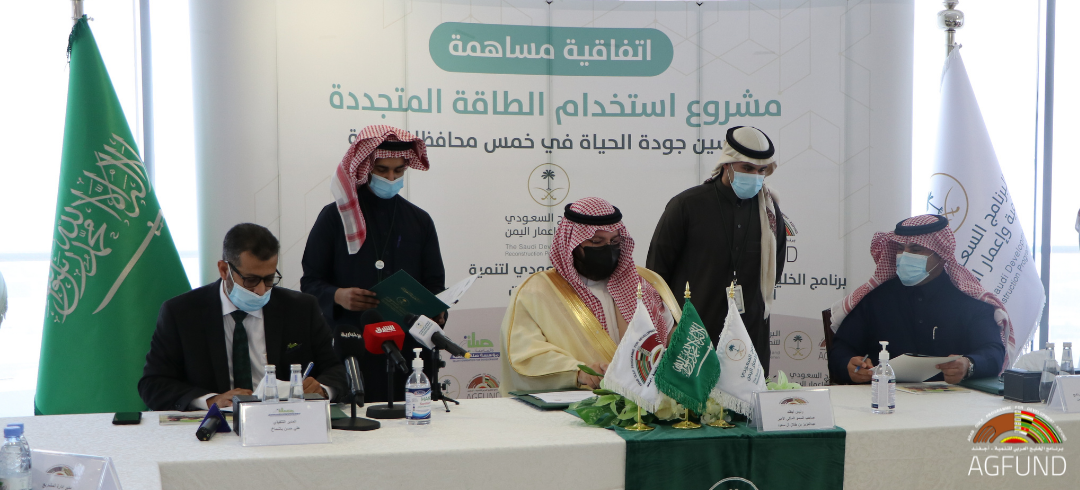 Abdulaziz bin Talal as AGFUND's Representative Partnerships Formed to Contribute to the Development and Reconstruction of Yemen
An agreement on a project titled "Using Multisectoral Solar Energy Systems to operate Drinking Water Wells, Agricultural Irrigation, Public Facilities, Lighting Homes in Some of the Governorates in Yemen" has been signed today in SDRPY headquarters in Riyadh. The agreement involves the Saudi Development and Reconstruction Program for Yemen (SDRPY), the Arab Gulf Programme for Development (AGFUND), and Selah Foundation for Development. The agreement comes in the framework of encouraging and supporting cooperation between partners to implement sustainable development projects with the aim of enhancing developmental and strategic integration in Yemen.
In this agreement, HRH Prince Abdulaziz bin Talal bin Abdulaziz, President of AGFUND, is the Representative of AGFUND, his Excellency the Ambassador of the Custodian of the Two Holy Mosques in Yemen and the general supervisor of the program Muhammed bin Saeed Al-Jaber, is the Representative of the Saudi Development and Reconstruction Program for Yemen, and Mr. Ali Hassan Bashammakh, the Executive Director of Selah Foundation for Development, is representative of the foundation.
The agreement aims at the cooperation between the partners to execute the project in Yemen in different fields, including energy, technical environment, food security, health, education, women's empowerment, water, environmental sanitation, protection, and shelter.
The project costs2,100,000$ and will be implemented in five governorates in Yemen which include Hadramout, Taiz,Lahj, Abyan and the western coast. There are 60,000 families who will benefit from pumping clean drinking water. Besides, 210 farmers who have sustainable irrigation methods will benefit from the agricultural irrigation and 931 families will benefit from lighting homes. Furthermore, a number of health and educational facilities and mosques in several remote areas will benefit from the project.
HRH Prince Abdulaziz bin Talal bin Abdulaziz expressed his great happiness for such efforts and partnerships formed to meet the pressing need for sustainably improving the living conditions and quality of life and empowering the vulnerable groups.
His Excellency Ambassador Mohammed bin Saeed Al Jaber affirmed that this agreement is part of the ongoing work that the SDRPY seeks to do under the directives of HRH King Salman bin Abdulaziz Al Saud, and HRH Crown Prince Mohammad bin Salman Bin Abdulaziz Al Saud, For the benefit in Yemen, so we will work on the continuity of the integration of our efforts and the efforts of the active parties to achieve comprehensive development in the Republic of Yemen.
It's worth mentioning that Selah Foundation for Development won Prince Talal International Prize for Human Development for 2019, under the theme of "Clean Water and Sanitation" that represents the 6th goal of the 2030 SDGs. This new project is considered as an expansion of the winning project since it will involve more beneficiaries and serve more comprehensive fields.
Publish date: 30 Jan 2022
Category: Other