News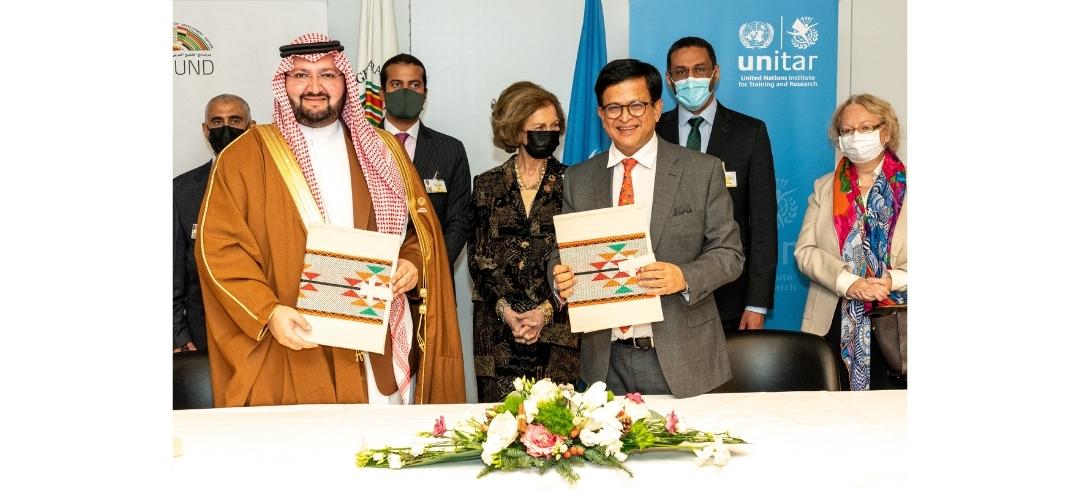 UNITAR and AGFUND sign two agreements to accelerate Sustainable Prosperity and strengthen Health Systems
December 15, 2021, Geneva, Switzerland – The United Nations Institute for Training and Research (UNITAR) and the Arab Gulf Program for Development (AGFUND) signed two agreements yesterday to scale up action on financial inclusion and women empowerment in Sub-Saharan Africa and the Middle East and to strengthen public health systems in Central Asia.
The agreements, signed by Mr. Nikhil Seth, Executive Director of UNITAR, and HRH Prince Abdul Aziz Bin Talal Al Saud, President of Arab Gulf Program for Development (AGFUND) were signed at the United Nations Office at Geneva alongside the awarding ceremony of the Prince Talal International Prize for Human Development, an annual event that carries a financial reward of US$ 1,000,000 to promote pioneering projects globally that supports human development and the Sustainable Development Goals (SDG).
The first agreement signed with UNITAR's Division for Prosperity aims to democratize education by providing affordable and accredited education on financial inclusion for women and youth from marginalized communities in Sub-Saharan Africa and the Middle East.
The objective is to empower beneficiaries to harness financial inclusion as a catalyst to develop solutions that respond to local development challenges and help support their communities and contribute to the achievement of the SDGs.
The second agreement was signed with UNITAR's Division for Peace which aims to provide capacity development through training for 1100 obstetric and gynecological care providers in 34 Afghan provinces. The training will focus on several health care facilities, including primary community and tertiary health care providers.
Moreover, the agreement provides an integrated blended training modality that encompasses a multiplicity of methods combining classroom-based, hybrid, and remote live sessions with asynchronous methods, virtual from mobile learning, and pre-recorded videos to presentations. The major component of the capacity-building training of health care providers will focus on strengthening and enhancing knowledge management services and women's access to reproductive health care and rights.
"The two agreements signed today mark an important milestone in our commitment to take concrete action to scale up access to training and education and strengthen participation in the economy for all segments of society, and to increase access to lifesaving medical support to marginalized populations."
"UNITAR is grateful for its continuing partnership with AGFUND in bringing economic empowerment and sustainable prosperity to vulnerable groups, especially women and youth who are disproportionately disadvantaged during the current pandemic," UNITAR Executive Director Mr. Nikhil Seth said.
Over the past four years, UNITAR's partnership with AGFUND has delivered a dozen of initiatives for the benefit of hundreds of beneficiaries from over 108 countries globally. Despite the COVID-19 pandemic, UNITAR's collaboration with AGFUND managed to reach out to a global audience thanks to their use of digital technologies and mobile applications that allowed training initiatives to reach beneficiaries even in locations where access to reliable communication is limited.
"AGFUND is delighted to collaborate with UNITAR in realizing the vision of our founding President HRH Prince Talal Bin Abdul Aziz Al Saud to deliver pioneering development and humanitarian programs that support disadvantaged, marginalized, and vulnerable groups of our society," AGFUND President HRH Prince Abdul Aziz Bin Talal Al Saud said.
AGFUND has been instrumental in supporting the SDGs specifically in reaching the furthest first. Today, AGFUND has partnerships with 444 international, regional, and governmental organizations, through which it supports 1,578 development projects in 133 countries.
"UNITAR is a strategic development partner of AGFUND and we foresee our collaboration continues to grow in the years to come. The agreements we signed yesterday will be instrumental in empowering local development actors - especially women and youth – for them to take full ownership of the solutions to development challenges in their communities," AGFUND Executive Director Mr. Nasser Alkahtani said.
In 2020, UNITAR and AGFUND successfully delivered app-based certificate courses on microfinance, leadership and empowerment, anti-money laundering, negotiation of financial transactions, fundamentals of financial system, and capital market development benefiting over 1,200 participants globally
"The Division for Prosperity of UNITAR is delighted to see the continuing and expanding collaboration with AGFUND. UNITAR will be able to leverage its extensive experience in delivering low-tech and high-tech solutions; an extensive network of coaches and mentors on the ground to sustain the initiatives; and existing platforms and online training infrastructure for greater outreach and cost-effectiveness," UNITAR's Division for Prosperity Ms. Mihoko Kumamoto said.
Publish date: 16 Dec 2021
Category: Other