News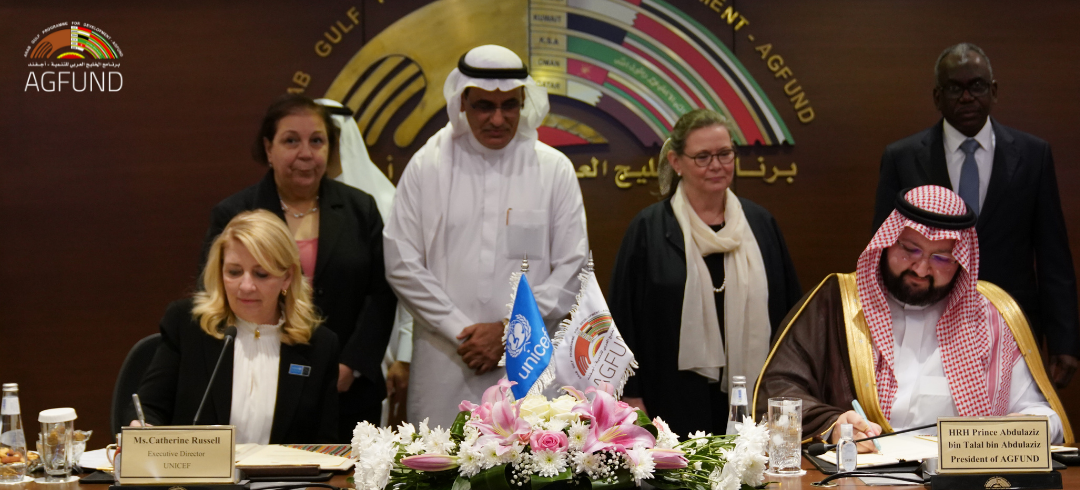 UNICEF and AGFUND mark 40 years of partnership and joint commitment for children
Riyadh, 28 March 2022 - His Royal Highness Prince Abdulaziz bin Talal bin Abdulaziz Al-Saud, President of AGFUND, and UNICEF Executive Director Catherine Russell led a commemorative ceremony today in Riyadh, celebrating 40 years of joint results for children.
"UNICEF is privileged to count on the steadfast support of partners like AGFUND," said UNICEF Executive Director Catherine Russell. "We look forward to even more support and better protection for the most vulnerable children over the next 40 years and beyond."
The partnership between the two organizations began in 1981 under the leadership of the late Prince Talal bin Abdulaziz Al-Saud, UNICEF Special Envoy and founder of AGFUND, and has since benefited generations of children across Asia, Africa, Latin America, and beyond.
AGFUND supported close to 100 UNICEF projects over four decades, helping provide urgent assistance to victims of natural disasters and conflicts, and strengthening national health, education and protection systems.
"We are incredibly proud of our results," said HRH Prince Abdulaziz bin Talal bin Abdulaziz Al-Saud. "Forty years of partnership do not only reflect AGFUND's dedication to children's rights but also mirror the Gulf community's profoundly rooted solidarity with vulnerable people no matter where they are. Our work with UNICEF has benefited children and families across the planet – a model global partnership with universal results."
At today's event, Russell and Prince Abdulaziz signed a new memorandum of understanding outlining areas of institutional cooperation in the near term – including early childhood development, child protection, health, education and advocacy – and a financial grant from AGFUND to support UNICEF's COVID-19 response in Sudan.
The signing ceremony was attended by Adele Khodr, UNICEF Regional Director for the Middle East North Africa, Eltayeb Adam, UNICEF Representative to the Gulf Area, and Nasser Alkahtani, Executive Director of AGFUND.
The principals also inaugurated an exhibition at AGFUND headquarters in Riyadh, featuring a collection of photography, infographics, and maps about the partnership.
Publish date: 28 Mar 2022
Category: Other